Welcome to the St Wulfram's Peregrine Webcam.

This page is undated with the latest news from St Wulfram's. LIVE images at https://www.lincsbirdclub.co.uk/site/index.php/sightings/peregrine-project
20th February 2021
Today the female (?) sent about half and hour on the parapet wall between 12.00 and 12.30hrs.
If your a feral pigeon, its best not to hang around if a peregrine turns up!
15th February 2021
The birds have not been seen for the past few days because of the very cold weather and snow on the nest tray. However, this afternoon the female reappeared in the afternoon sunshine.
At 16.22hrs both the male and female birds appear on the parapet above the nest tray and then one bird (the female?) dropped into the nest tray briefly. The first visit to the nest tray in 2021.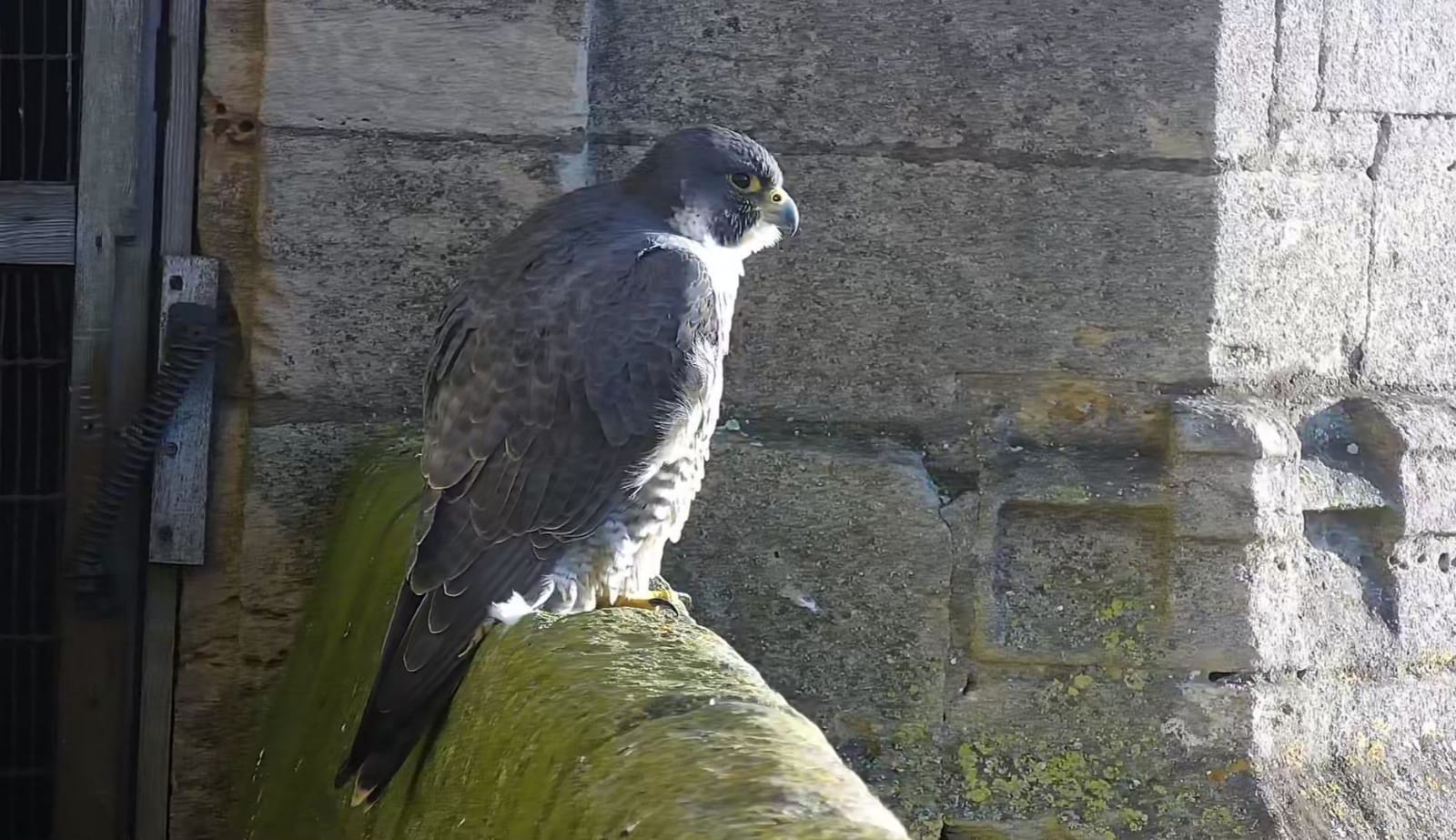 The female peregrine on 15th Feb 2021
11th February 2021
The female bird eating breakfast on 11th February 2021. Note how full the birds crop is!
31st January 2021
A relaxing Sunday morning and the resident male is on the wall above the nest tray over looking Grantham.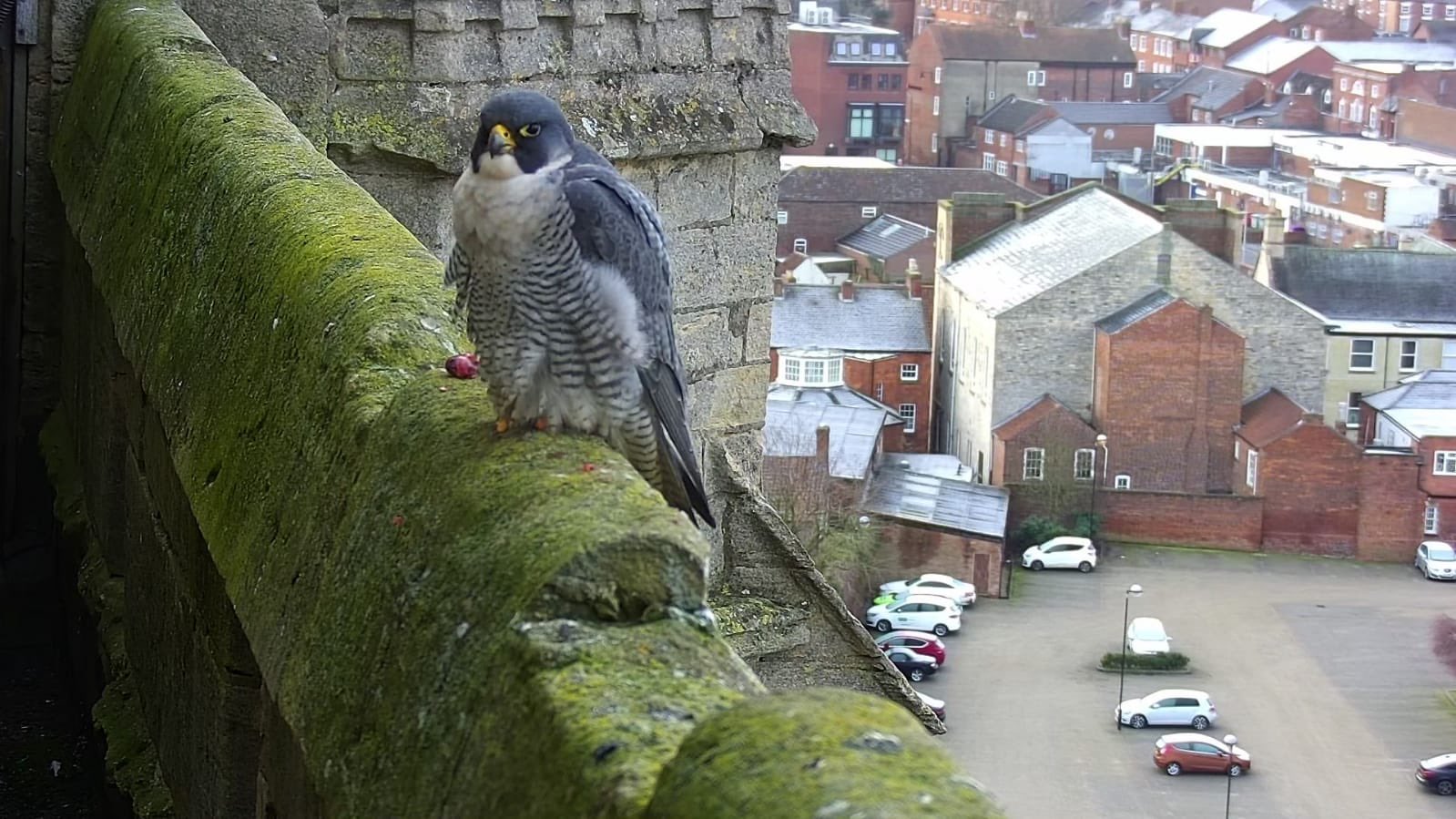 27th January 2021
A short video from the spire.
The male bird at St Wulframs church in Grantham watching the world go by.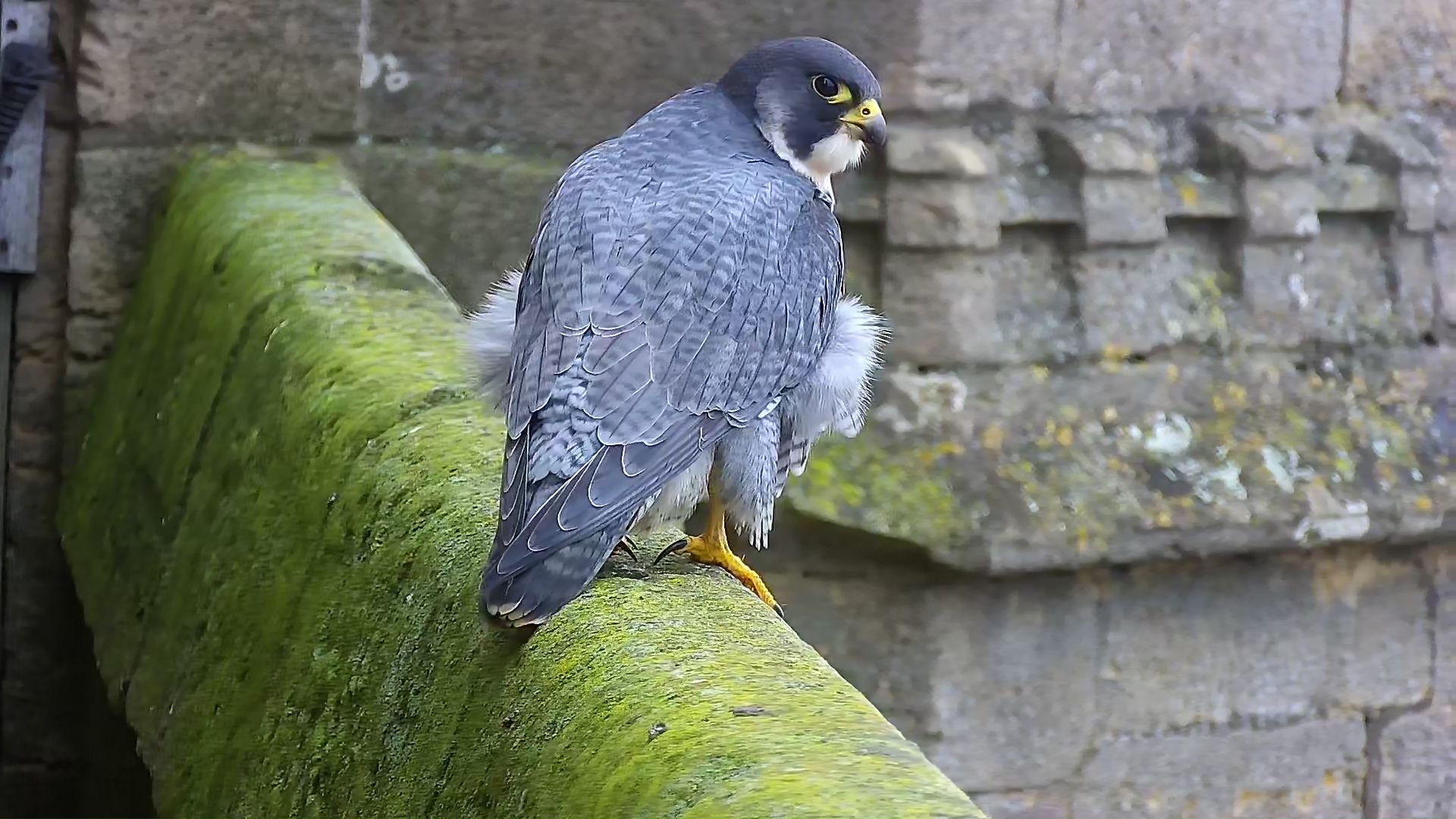 History of the St Wulfram's Peregrine
2007 - pair laid 2 eggs on the walkway, one of which hatched - (outcome unknown) The adult female was colour-ringed - she had been ringed on a natural cliff site nr Halifax as a chick on 01/06/2006. She had moved 125km SE and remained as our breeding female into 2012, before works started on the spire.
2008 - nest tray provided by Bob Sheppard and Alan Ball - but not used ('our' female bred nearby at Ropsley Quarry).
2009 - 2 fledged from 4 eggs 2010 - 2 fledged from 4 eggs.
2011 - 3 fledged from 4 eggs 2012 - 3 fledged from 4 eggs.
2013 & 2014 Works to repair spire ongoing - birds prevented from nesting 2015 - 2017 no nesting attempts.
2018 - failed on 1 egg - 1 addled egg found in June.
2019 - pair left site just prior to egg laying for unknown reason.
2020 - 4 eggs, 2 hatched but chicks died not long after hatching. One of our chicks a male ringed on 29/05/2009 was found shot near Horncastle on 24/05/2011 a distance of 47km NE.