John Clarkson 26 July 1948 – 25 August 2023
John was a founder member of Lincolnshire Bird Club in 1979, County Recorder North from 2010-2019 and co-author of Birds of Lincolnshire (2021). One of the counties outstanding and most recognisable birders and a first-class bird photographer, his recent death at the age of 75 years has stunned the Lincs birding community. He died peacefully at Princess Diana Hospital Grimsby with his wife Nicky and children Aidan and Eleanor at his bedside. He had been diagnosed with a brain tumour a year ago and bore his surgery, treatment and what proved ultimately to be a terminal prognosis with stoicism; lovingly and devotedly supported by his family throughout.
John's role as County Recorder, his superb photography over many years and pursuit of rare and scarce birds over Lincolnshire, Britain and the world had made him well known to so many. He had a wide circle of friends who all admired him for his wit, intelligence, skill as a raconteur with a fund of stories and jokes coupled with an immense knowledge of birds and photography. He was an all round "top man". Some birders will be surprised to learn of the range of John's talents, he was a true polymath. The eldest of Danny and Gwen's seven children he was born and raised in Louth and attended Louth Grammar School.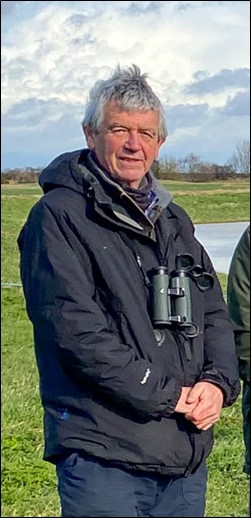 On leaving school he joined the RAF and trained as an aircraft technician at Sea Land in Cheshire where he was able to develop a close relationship with his first love, Everton Football Club, regularly attending home matches at Goodison Park. Not yet a birder when he had completed his training he was posted to the Middle East ("a wasted birding opportunity"). Disillusioned with the RAF he left and trained as an English teacher at Bishop Grosseteste College in Lincoln and it was in that city that he took his first role as a teacher. Dates are uncertain, as he often said, "if you could remember the 60s, you weren't there" During this period in the early 70s he married Judith and took up birding, soon getting to know Andy Sims at Burton Pits where they were patch workers and voluntary wardens from 1972 onwards. They learned their craft together with the Black-throated Thrush at Coltishall, Norfolk in December 1975 being a fondly remembered first out of county twitch. John was Andy's best man and reminiscing at Covenham Reservoir about their first foreign birding trip to Majorca in spring 1976, they impressed a young Phil Espin with their dynamism and cosmopolitan outlook.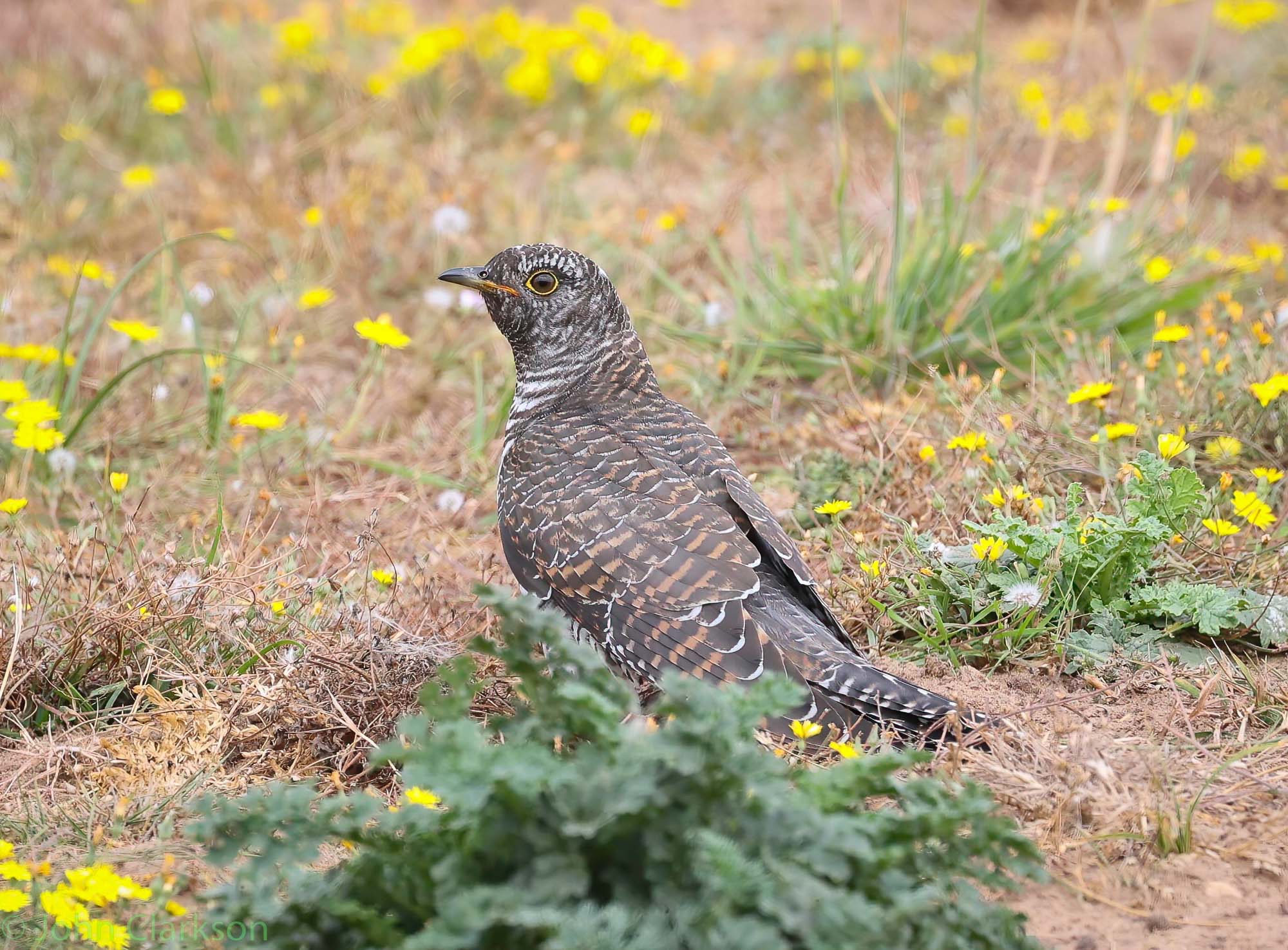 Common Cucko (juvenile) at Saltfleetby © John Clarkson
John's first son Aidan arrived shortly afterwards, followed by daughter Eleanor five years later by which time John had moved to Louth in the late 1970s to work at Deighton Close School where he stayed for the rest of his career. Having moved to Louth he became close friends and birding partner with Keith Atkin, the then Lincs County Recorder who also lived there and shared his passion for birding and photography. Keith was the prime mover in the formation of the bird club and John was involved with the club from the beginning and writing of the Bird Report from the mid1980s. After moving to Louth John actively engaged at Saltfleetby-Theddlethorpe Dunes NNR as a voluntary warden.
With a keen interest in literature and education, John took a sabbatical year in 1985/86 to study for an MA in Education at the University of East Anglia at Norwich. This broadened his horizons in many ways. He was immediately inducted into the UEA twitching crew, mainly, as he put it, because he had a car. It was here a lifelong birding friendship was formed with Richard Thomas. It was also here that he met Nicky, the lady who would later become his wife, after his marriage to Judith ended a few years later.
From 1986 to 1991 some serious twitching took place when John teamed up with Andy Sims and Phil Espin to cover the British Isles regularly from Scilly to Shetland joined at times by Robert Carr and David Jenkins. John and Nicky became partners in 1992 and from that time he put more focus on his Lincolnshire list. As a "true professional" twitching was hard work with the inflexibility of teaching hours and holidays. He didn't give it up though, he just managed his expectations and understood his limits. In the years that followed John developed a more Zen approach to life becoming a black belt in Shotokan Karate and then switching over to Tai Chi at which both he and Nicky excelled becoming tutors and internationally known for their expertise guided by their teacher, Master Ding.
Engineering early retirement at 55 when his school moved to Spilsby in 2003 was one of his proudest achievements and he used his retirement as fully as he could taking up world travelling in a serious way. Having already visited Gambia, Israel, Morocco and Ethiopia a long planned lengthy trip to Australia with Nicky soon followed. Shorter trips included Poland, Hawaii, Philippines, Canada, China, Spain, Kenya, Argentina, Antarctica and the South Atlantic, Baja California, Australia, India, Costa Rica and doubtless many others, including New York where he tied the knot with his soul mate Nicky, and Sri Lanka where the onset of the Covid pandemic found him being escorted out of the country in 2020. John also found a new career, working as a bird surveyor on ecological impact assessments for offshore and onshore wind farm developments. He enjoyed working at sea and meeting a new network of work colleagues, who immediately became friends, citing 33 of them when he finally retired in 2018 at the age of 70. He had been doing voluntary work with BTO for many years, especially WeBS and BBS which he continued up until May this year, three months before he died.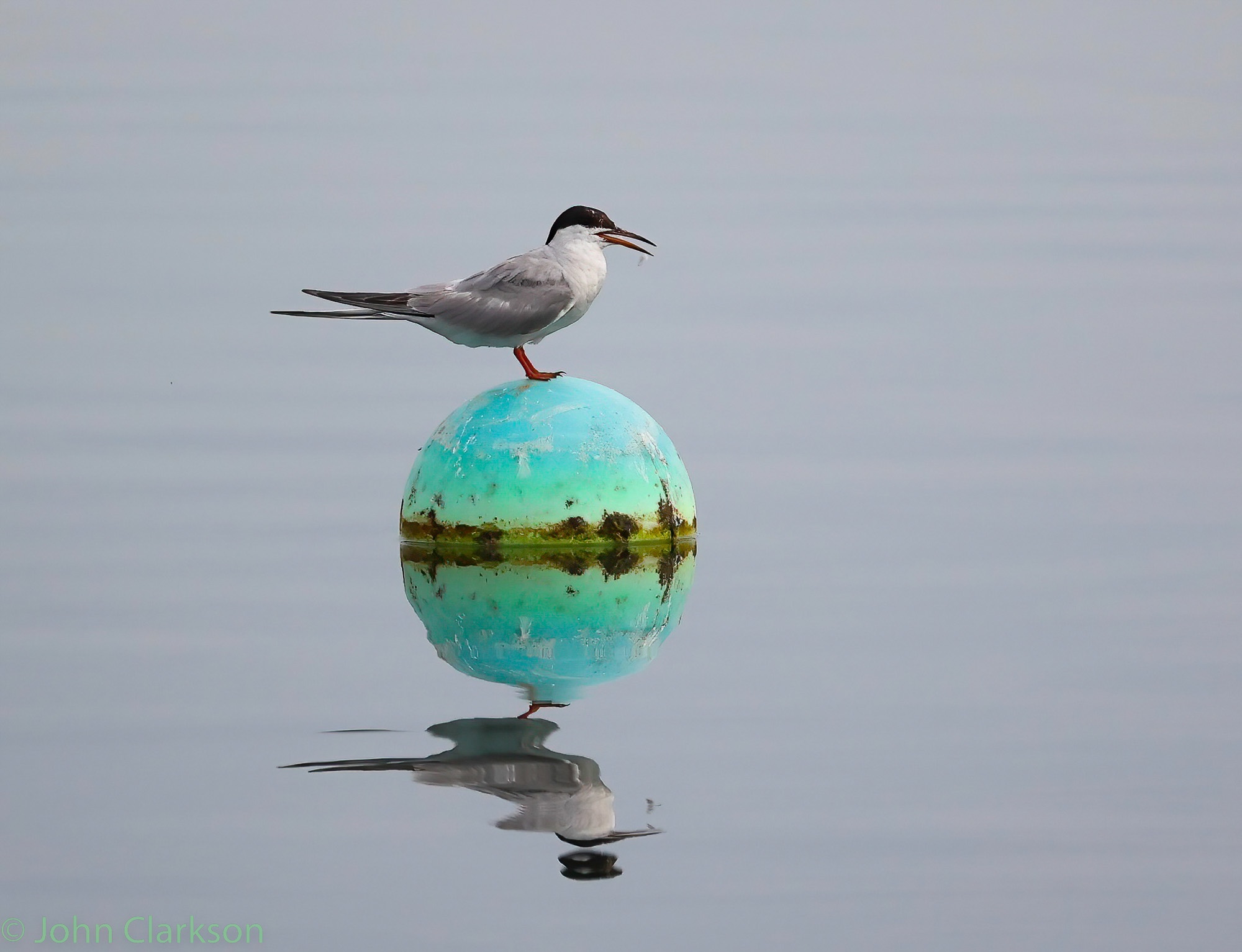 Common Tern at Covenham © John Clarkson
John wrote the Birds of Louth in 2007 and was part of the team with Colin Casey, Phil Espin and Phil Hyde that produced Birds of Lincolnshire in 2021. He was involved in writing the Bird Report up to 2020 and right up to the end he took part in proof reading and offering sage advice on LBR 2021. He was a great servant and advocate for the club, recruiting Phil Espin to the committee in 2010 and persuaded him to become Chair in 2014. He was also "Lincolnshire List Master" a role he relished, keeping an eye on the developing lists of all the county birders who were willing to share their progress. One of the highlights of his birding career came in September 2019 when he found a first for Lincolnshire. Isabelline Wheatear: at Gibraltar Point, which he photographed and was seen by very few others during its two days stay. He therefore achieved a perfect result, securing the tricky identification of a "first" and gripping off all his mates at the same time!
As mentioned earlier, John had wide interests apart from birding. He was a skilled allotmenteer and loved his garden, a serious cyclist in his youth, cricket and rugby fan, Indian food chef, salsa dancer, lover of music and guitarist and highly involved grandad. Aidan's children Alex and Ava live close by in Louth and Eleanor's children Che, River and Ethan live in Chamonix, France where he was a regular visitor and keen student of the French language. In 2021 he fulfilled a lifelong ambition and bought a camper van and had two summers of travelling to France and attending festivals before his tumour put an end to his driving days.
Many are commenting how unfair it is that a healthy man with a zest for life that was second to none, a lifestyle that embraced fitness and latterly a vegetarian diet, a man who trained himself in mind and body and was as lovely, and loved, a human being as one could hope to meet, a man with such varied interests, could be struck down in the space of a year and taken from the bosom of his family.
We must all accept that the end will come, fairness isn't part of the equation. All anyone can hope is that they live life to the fullest and leave behind a wonderful family and friends with happy memories and through whom we will live long in those memories. John did that.
Phil Espin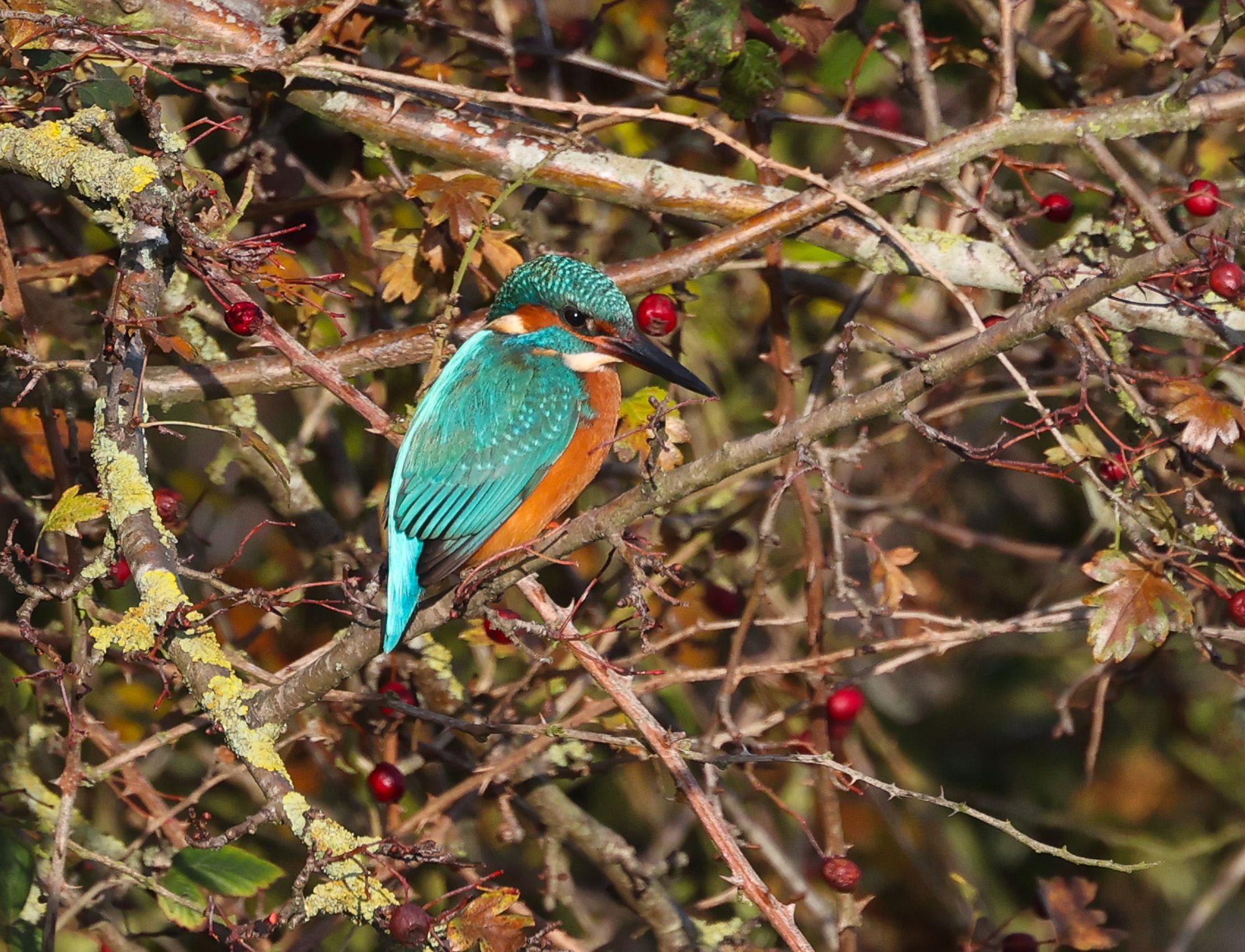 Kingfisher in Louth © John Clarkson