The Snowy Owl at Wainfleet Marsh, March 21st-22nd 2018
1. Finder's report by Kevin Wilson
Having downloaded the morning's e-mails, about 30 of them, on March 21st, I skimmed the senders and subject columns. Amongst all the usual work subjects, the label "large owl" caught my attention. The message was from Friskney resident Andy Rayment. While walking his dog at Wainfleet Marsh, he had seen a large owl. Being familiar with Short-eared owls, he suspected this was a Snowy Owl. Andy sent a short clip of video taken on his telephone. Though slightly distant and silhouetted against the sun, this indeed looked like a Snowy Owl. Surely this was the bird that had gradually moved west along North Norfolk until last having been seen at Snettisham on March 9th-11th.
I noted Andy's sighting was at 09.15 and it was already nearly midday - could the bird still be around? I emailed Andy back with my telephone number to see if he would ring me with location details. I also contacted local staff and birders to see if anyone was close to the locality to check it out. No one was available, so Richard Doan, Ben Ward and I made the drive to the bottom of Sea Lane, Friskney, site of a former RAF bombing range. Here, we were presented with a vast landscape of saltmarsh, tidal flats and open farmland. I left Richard and Ben checking to the north, while I headed south down the sea bank for about three km while scanning west and east.
It was amazing to think that on December 30,1990, I had been in the exact area watching Lincolnshire's first Snowy owl. Today, however, I was having no luck and time was short, so I had to head back. As I met back up with Richard and Ben, I received a telephone call from Andy who said that the bird had flown off but probably not gone far towards the foreshore. At that moment, a four-wheel drive vehicle drove quickly down the old MOD track out across the marsh. Fortunately this vehicle must have flushed the owl out of its hiding place because the next thing I heard was Ben exclaiming, "I've got the Snowy Owl!" I thanked Andy for his call and the settled down to enjoy scope views of the bird as it took shelter from the wind behind a gate post about 150m away.
Mindful of the significance of the sighting for Lincolnshire birders, we quickly put the news out and there followed a sizable twitch. I returned for more views in the evening, hoping to see the owl in flight before dusk. The weather was grim and, although I did not see if fly, it had hopped up onto the gatepost and was showing in full view and being quite active.
The following day approximately 600 birders were on site. Frustratingly, the crowd of birders could be seen from as far away as Gibraltar Point - but not the owl! The previous bird had come up to Gibraltar Point on March 17,1991 after apparently having been flushed by a photographer, and I recall watching two Short-eared owls repeatedly dive-bombing it just over the sea bank.
The Snowy Owl decided to head south during the late evening of March 22nd before taking up another temporary residence deeper into the Wash until it was re-found in the Freiston-Frampton Marsh area May 1st-10th.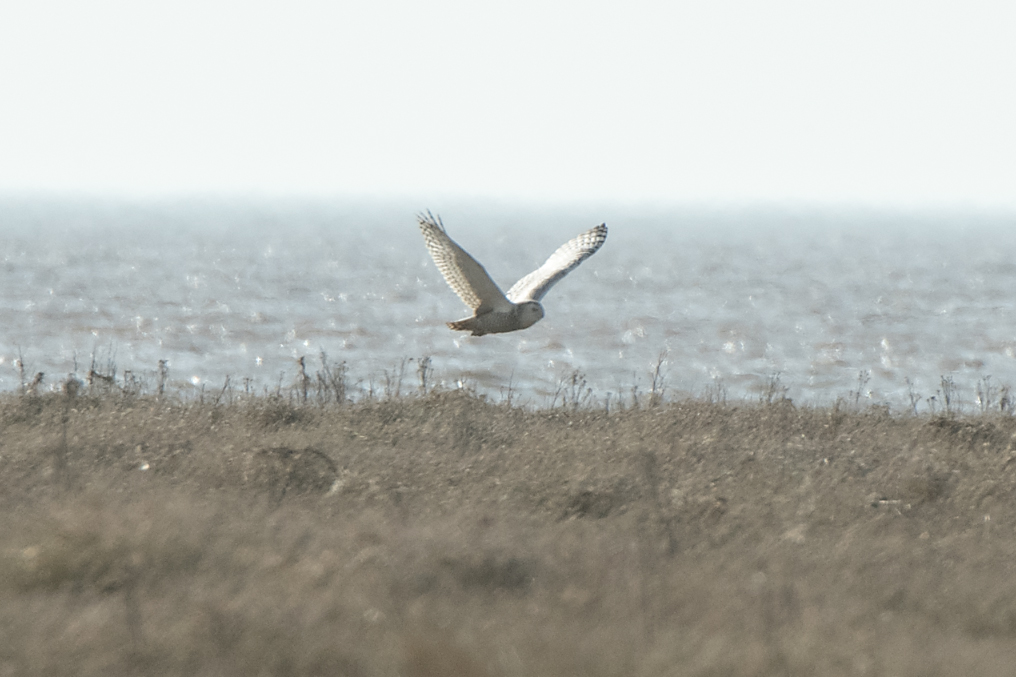 2. Snowy Owl pellet collection and analysis
On Mar 24th, two days after the Owl had gone, Andrew Chick and myself decided to examine the saltmarsh around it's two favourite perches to see if it had regurgitated any pellets, a slim hope perhaps. We found one fresh Owl pellet and the finder's brother Robin later found a second. Although very likely from the Snowy Owl we couldn't exclude it having come from a Short-eared Owl. One pellet was dispatched to Professor Martin Collinson, Dept Clinical Genetics, University of Aberdeen for potential DNA analysis of any cellular material that might have been recoverable. Sadly the material that might have yielded DNA was too degraded to recover any DNA for analysis and thus we could not confirm that the pellet was from the Snowy Owl. The circumstantial evidence was strong though and Gary Steele's analysis was of interest.
Pellet dissection- report from Gary Steele
Pellet 1
The maximum dimensions of the pellet were 7.3 x 3.3 cm, and it was relatively fresh and still moist internally. Following its dissection the pellet was found to predominately contained the almost complete skeletal remains of a single avian prey item, with the exception of the bill. The sternum, cranium and one of the two tibiotarsi were heavily fragmented. The tarsus length was 3.1cm. The absence of the bill made the identification of this prey item down to species level less easy. There were also a very low number of somewhat larger skeletal remains, again probably avian, which didn't seem to fit into the skeletal reconstruction and may have belonged to a separate prey victim.
Skeletal remains of an avian (?) prey item from the dissection of Pellet 1
Pellet 2
Compared with the pellet 1, this was noticeably smaller, 2.8cm x 2.1cm, but was nevertheless of similar overall form and colouration; it was noticeable drier and more compacted in nature. From past experience when dealing with the pellets of other owl species, particularly Barn Owls, it is not that usual to find relatively small pellets mixed in with others that would be considered more 'standard' in size.
Once again the pellet was entirely made up of avian prey remains – the matrix material mainly consisting of fine particles of feathers and remainder of bird bones. Even accounting for its much smaller size, when compared to the earlier one this pellet contained very few bone remains, just 14 in total, compared with the 70+ in pellet one. Four of the bones consisted of vertebrae, and what was immediately striking was their size (up to 16mm in length) which was a significantly bigger than the largest bird vertebra in the first pellet and suggestive of larger prey victim. As far as could be determined, the vast remainder or bone material consisted of broken-down fragments, probable sternum or pelvis (or both).
Conclusion
Although not conclusively from the Snowy Owl on Wainfleet Marsh, the size of the avian remains in them points towards the pellet origin as being from this bird. Unfortunately DNA could not be extracted from then pellet material sent.