January 2018 Report
A total of 168 species were recorded in January 2018.
Species shown in GREEN are BBRC rarities or species recorded on less than 10 occasions in Lincolnshire. Bold BLUE are county rarities and require description to get accepted into the annual report and bold RED are scarce species with on average less than 20 records annually.
The following records are not verified. If you have any photographs of these birds, please send to This email address is being protected from spambots. You need JavaScript enabled to view it..
The numbers in brackets refer to the number of records and number of sites (none of the records have been checked and there is likely to be some site duplication).
.
Mute Swan (218/126)
Bewick's Swan (6/2) Birds recorded at Crowland High Bank and Frampton RSPB – See images at https://twitter.com/DonnyBirder1/status/956186862703599616
Whooper Swan (33/29)
Bean Goose (2/1) Tundra bird at Marston STW from 25th – 30th Jan see https://twitter.com/darth_feathers/status/957651626520666112
Pink-footed Goose (80/56)
White-fronted Goose (11/10) There were 16 on Croft Marsh, Gib Point on 17th Jan including the neck collared bird KJ3 then flew west.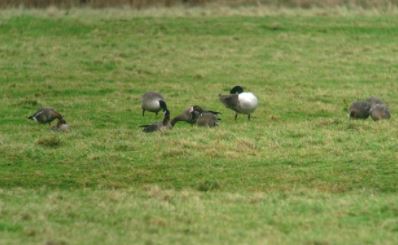 Greylag Goose (179/97)
Canada Goose (132/69)
Barnacle Goose (19/19) The biggest flocks were on the Humber - https://twitter.com/GPCbirding/status/957178237674811392
Brent Goose (58/36)
(Brent Goose (Dark-bellied)) (41/20)
(Brent Goose (Light-bellied)) (3/2)
Egyptian Goose (24/12)
Shelduck (91/69)
[Wood Duck] (1/1)
Mandarin Duck (1/1) Single bird at North Somercotes Warren
Wigeon (143/97) A hybrid American Wigeon was at Woodhall - https://twitter.com/_taketotheair/status/957631458902007809
Gadwall (158/86)
Teal (173/104)
Mallard (307/159)
Pintail (41/34)
Shoveler (154/86)
Red-crested Pochard (5/5)
Pochard (87/54)
Ring-necked Duck (1/1) Single bird at Kirkby on Bain GP
Tufted Duck (185/96)
Scaup (9/7) Video of the Hykeham Pits bird at https://twitter.com/benwardbirds/status/954431448844513281
Eider (6/4)
Long-tailed Duck (1/1) Single bird on Welland Bank on 1st Jan
Common Scoter (20/9)
Goldeneye (68/53)
Red-breasted Merganser (7/3)
Goosander (67/33)
Red-legged Partridge (20/16)
Grey Partridge (18/15)
Pheasant (185/95)
Red-throated Diver (25/9)
Sooty Shearwater (1/1) Single bird off Gibraltar Point NNR on 7th Jan
Gannet (3/2)
Cormorant (210/112)
Shag (1/1) Single bird at Gibralter Point on 15th Jan
Bittern (11/6) Two at Hotel Pit, Far Ings on 20th Jan
Little Egret (178/95)
Great White Egret (6/6) Birds recorded at Thorpe Fen, Wroot, Deeping St James, River Bain, Woodhall and Water Rail Way – some great photographs here https://twitter.com/jammyjimm/status/951182523744313345
Grey Heron (136/73)
Little Grebe (93/68)
Great Crested Grebe (52/33)
Red-necked Grebe (2/2) One Covenham Res on 26th Jan - https://twitter.com/johnclarkson500/status/956888885388247040
Slavonian Grebe (2/2)
Black-necked Grebe (7/4) Including a photographic bird at Toft Newton - https://twitter.com/andysims4049/status/950701324202663940
Red Kite (28/19)
Marsh Harrier (27/26)
Hen Harrier (11/9)
Sparrowhawk (74/48)
Buzzard (160/97)
Water Rail (32/19)
Moorhen (227/123)
Coot (164/80)
Avocet (3/3)
Oystercatcher (32/21)
Golden Plover (50/41)
Grey Plover (13/6)
Lapwing (129/91) Lots at RSPB Frampton - https://twitter.com/HawkeyeEllis/status/957179788254437376
Ringed Plover (16/14)
Curlew (102/69)
Black-tailed Godwit (37/32)
Bar-tailed Godwit (14/7)
Turnstone (23/14)
Knot (19/12)
Ruff (17/17)
Sanderling (34/18)
Dunlin (50/40)
Little Stint (3/3)
Green Sandpiper (7/5)
Spotted Redshank (10/10)
Redshank (113/74)
Jack Snipe (4/4)
Woodcock (16/10)
Snipe (46/36)
Razorbill (1/1)
Guillemot (8/4)
Kittiwake (2/2)
Black-headed Gull (370/177)
Mediterranean Gull (2/2) A first winter Mediterranean Gull roosted on Apex Pit, see images at https://twitter.com/NHykehamPits/status/954798908579991552
Common Gull (217/99)
Lesser Black-backed Gull (30/23)
Herring Gull (150/94)
Yellow-legged Gull (2/2)
Caspian Gull (1/1) A 3cy Caspian Gull was at Kirkby on Bain landfill 0n 24th Jan – See interesting mage on https://twitter.com/saloplarus/status/956237581821382657
Iceland Gull (3/3) One at Kirkby on Bain on 23rd Jan - https://twitter.com/DJRBirder/status/955879044180037634
Glaucous Gull (6/5)
Great Black-backed Gull (87/57)
Rock Dove (110/50)
(Feral Pigeon) (108/49)
Stock Dove (119/52)
Woodpigeon (377/179)
Collared Dove (199/77)
Barn Owl (50/36)
Little Owl (1/1)
Tawny Owl (12/9)
Long-eared Owl (4/1) At Deeping Lakes roosting on the island - https://twitter.com/jammyjimm/status/954348077351145472
Short-eared Owl (4/)
Kingfisher (67/29)
Green Woodpecker (42/29)
Great Spotted Woodpecker (72/41)
Kestrel (184/110)
Merlin (16/13) Images of the Frampton bird at https://twitter.com/woodmanoliver1/status/957691992477192194
Peregrine (34/20)
Magpie (322/164)
Jay (58/25)
Jackdaw (244/104)
Rook (115/62)
Carrion Crow (346/180)
Raven (7/7)
Goldcrest (67/47)
Blue Tit (318/152) A black-head blue tit at Whisby at the beginning of the month - https://www.express.co.uk/news/nature/905568/Blue-tit-bird-nature-black-face-rarity-Whisby-Nature-Reserve-Lincolnshire-Ornithology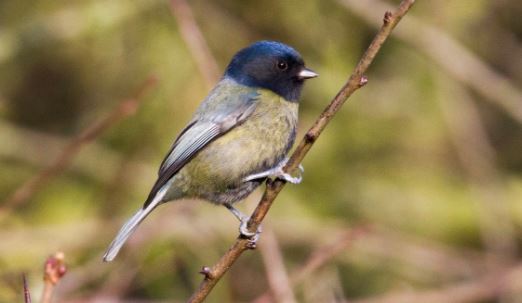 Image by Brian Cocksledge

Great Tit (283/132)
Coal Tit (74/39)
Willow Tit (6/6)
Marsh Tit (7/6)
Bearded Tit (9/8)
Skylark (93/47)
Shore Lark (7/7)
Cetti's Warbler (15/15)
Long-tailed Tit (137/70)
Chiffchaff (3/3) A Siberian chiffchaff was at Marston on 26th - https://twitter.com/DJRBirder/status/956961032899002369
Blackcap (5/4)
Waxwing (3/2) One in Louth https://twitter.com/johnclarkson500/status/953611669569187840 on 17th Jan and a bird videoed in Mablethorpe https://twitter.com/m0xdx/status/957711820705411072
Nuthatch (18/16)
Treecreeper (22/20)
Wren (246/119)
Starling (292/140) Large murmurations at Whisby NP https://twitter.com/jpbphotography/status/954655974496919552 and Apex Pits https://twitter.com/NHykehamPits/status/956978735374389248
Blackbird (382/185)
Fieldfare (149/85)
Song Thrush (97/55)
Redwing (81/56)
Mistle Thrush (83/46)
Robin (323/149)
Stonechat (53/43) https://twitter.com/OwenBeaumont1/status/957583263610138625
Dunnock (229/108)
House Sparrow (209/87)
Tree Sparrow (46/22)
Grey Wagtail (26/13)
Pied/White Wagtail (146/80)
(Pied Wagtail (yarrellii)) (116/68)
Meadow Pipit (91/47)
Rock Pipit (22/9)
Water Pipit (7/4)
Brambling (7/6)
Chaffinch (274/138)
Hawfinch (5/5) Including a count of 14 at Forest Pines, Brigg https://twitter.com/andysims4049/status/950700159696101377
Bullfinch (84/55)
Greenfinch (128/75)
Linnet (85/50)
Twite (11/7)
Lesser Redpoll (15/4)
Goldfinch (236/115)
Siskin (11/11)
Snow Bunting (19/11) https://twitter.com/OwenBeaumont1/status/957549669458079744
Lapland Bunting (1/1)
Yellowhammer (87/34)
Reed Bunting (131/61)
Corn Bunting (11/6)


Did you record a species not shown in this list? Please send further information to the County Bird Recorders;
North Lincolnshire
John Clarkson
33 Ramsgate, Louth, Lincs LN11 0NB
This email address is being protected from spambots. You need JavaScript enabled to view it.
South Lincolnshire
Phil Hyde
The Cottage, Fen Lane, East Keal, Spilsby, Lincolnshire PE23 4AY
This email address is being protected from spambots. You need JavaScript enabled to view it.